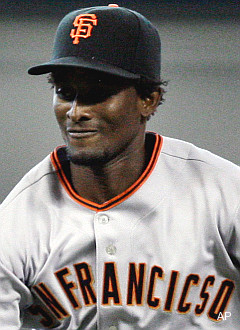 San Francisco Giants Jersey Misspelled During Game
What an embarrassing moment for the San Francisco Giants!
During Wednesday nights game against Houston, one of the players from the San Francisco Giants took the field with a jersey that was misspelled.
When reserve Eugenio Velez took the field for a double switch in the seventh inning at Houston on Wednesday night, he apparently had no idea his road grays read :  "San Francicso", reported Yahoo Sports.
San Francicso is misspelled in case you didn't notice that.
Obviously, the correct spelling would be San Francisco (s before the c).
What I'm wondering here is whether or not someone lost their job over this incident?