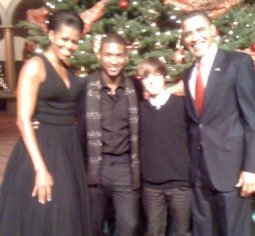 Justin Bieber Met President Barack Obama Twice
So let's count the number of 16 year olds who have met with the President of the United States not just once, but on two different occasions.
Hmmm….  let's see…. umm!  I can't think of any, can you?
Well, there is one actually, and his name is Justin Bieber.
That's right, Justin Bieber has actually met President Barack Obama two different times – pretty impressive huh?
In fact, one of those times Justin Bieber was invited directly into The Oval Office to hang out with President Barack Obama, take some pictures, and just chill out I guess.
Here's what Justin Bieber had to say about hanging out with President Barack Obama in The Oval Office at the White House:
"I got to hang out with him in the Oval Office, which is pretty crazy, because no one really gets to go in there," he said. "But it was pretty incredible. I got pictures with him."
The two times that Justin Bieber has met and performed for President Barack Obama was when he took the  stage in the Washington D.C.  in December where he performed along with mentor Usher for "Christmas in Washington."
And the second time Justin Bieber met President Barack Obama was just last week when he took part in the annual Easter Egg Roll.
Not too bad for being 16 years old and already hanging out with The President of the United States in The Oval Office!