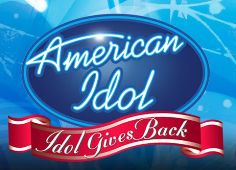 Idol Gives Back 2010 Performers
This years 2010 American Idol Gives Back performers are nothing less than stellar!
The names (see below) that will be present are a perfect compliment to the award winning American Idol Gives Back program that raises for various chosen charities.
This year's American Idol Give Back 2010 will raise awareness, funds, and resources to benefit United States based and international charities such as:
Children's Health Fund
Feeding America
Malaria No More
Save the Children's U.S. Programs
United Nations Foundation
"Idol Gives Back" made history by raising over $140 million for charity.
Idol Gives Back 2010 Performers:
Here is the list of artists that will be performing at Idol Gives Back 2010:
Alicia Keys
Carrie Underwood
The Black Eyed Peas
Annie Lennox
Jeff Beck
Corporate Sponsors and donations
As previously announced, News Corporation, Ford Motor Company, Coca-Cola, AT&T and ExxonMobil will return as corporate sponsors of "Idol Gives Back" and will generously donate to the historic Emmy Award-winning television event. Viewers will once again be able to make donations during and following the show. In addition, the week's voting results will be revealed, sending one of the finalists home.
According to Pop Tower, in previous years, "Idol Gives Back" has welcomed President Barack Obama, British Prime Minister Gordon Brown, former President George W. Bush, Brad Pitt, Bono, Reese Witherspoon, Miley Cyrus, Eli Manning, Peyton Manning, Annie Lennox, Daughtry, Carrie Underwood, Mariah Carey, Gwen Stefani, Josh Groban, P!nk, Celine Dion, Robin Williams, Ben Stiller and others.