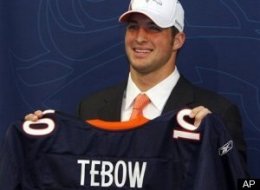 Tim Tebow Broncos Jersey Officially #10 (Image, Picture)
The day that every Tim Tebow fan has been waiting for appears to be upon us.
Pictures of Tim Tebow's Denver Broncos jersey is just now starting to hit the web, and the jersey is not the traditional #15 that we saw Tebow wearing during his days at Florida.
The Tim Tebow Broncos jersey is clearly sporting #10.
Here's the image of Tim Tebow's #10 Denver Broncos jersey: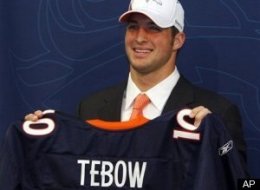 Tim Tebow's rookie debut at Denver Broncos mini camp:
According to Huffington Post, the 2007 Heisman Trophy winner from Florida and surprising first-round draft pick dons an orange No. 15 jersey and is participating in workouts on a chilly Friday morning with six other draft choices, 19 college free agents and two wide receivers trying out with the team.
During the 25-minute period in which reporters, photographers and cameramen are allowed to observe, Tebow ran agility drills and then threw several passes under the watchful eyes of coach Josh McDaniels and his younger brother, Ben, who is Denver's new quarterbacks coach.
Deploying his new and improved throwing motion that removes the looping windup he had in college, Tebow's throws were tight and compact.
It will be interesting to see exactly how much playing time Tim Tebow will be getting in the up coming 2010 NFL season.
Josh McDaniels is very excited about having the Heisman Trophy winner on his team as quarterback, but that doesn't necessarily mean we'll be seeing a lot of playing time right from the beginning with Tim Tebow.
What do you think?
So what do you first think about Tim Tebow wearing #10 instead of #15 that he had at Florida?
And do you think Tim Tebow will be getting a lot of playing time this coming season at Denver?