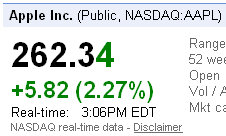 NASDAQ:AAPL – Apple Stock Up, China Unicom Subsidizing iPhone 3G
Executives of wireless carrier China Unicom – CHU2.05, +0.08, +0.67 – have outlined plans to subsidize the purchase of iPhones and other 3G handsets. Their comments were made at China Unicom's annual shareholder meeting, according to a Wall Street Journal report.
Prior to Apple (NASDAQ:AAPL) officially launching the popular iPhone in the China market, there was already a black market for the iPhone that was thriving. The people of China were tired of waiting for the government to tell them when they can purchase the iPhone, so a black market was formed, and the demand was being met.
But Apple officially launched the iPhone in China and experienced explosive sales upon that initial launch. Apple executives had this to say about launching the iPhone in the China market:
If you look at greater China which we define as mainland China, Hong Kong and Taiwan, the iPhone units were up year-over-year over 9 times. We added another 800 points of distribution in China. The revenue, we have never released this number before but I will do this in this particular case, through the first half of the fiscal year that we just completed for the six month period our revenue from greater China was almost $1.3 billion and this is up over 200% year-over-year. So we are well pleased with how the company is positioned to take advantage of the growth in greater China.
NASDAQ:AAPL – Apple shares up on China Unicom news
Now whether or not we can attribute Apple share prices to the China Unicom announcement of subsidizing iPhone purchases is up for debate because the NASDAQ as a whole is up as well (NASDAQ – up 1.94% – 2,421.41).
But Apple shares are definitely on the upward swing trading currently at 262.15, up +5.63 (2.19%).
What do you think?
Do you think that Apple shares are up because of the news from China Unicom, or are Apple shares simply following the overall NASDAQ index?