Verizon Android Powered LG Ally Release Date May 20th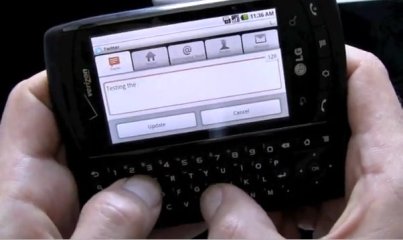 LG is about to bring some serious competition to the higher priced Motorola Droid and the HTC Droid Incredible at Verizon this month. The LG handset is set to be released by Verizon and will arrive in stores on May 20th.
The more popular Verizon Android phones are currently the Motorola Droid which sells for $199 and the HTC Droid Incredible that is also available for $199. With a much lower priced Android powered mobile phone at Verizon, the two more robust phones are certainly going to have a fight on their hands to capture the Android market share.
LG Electronics, the maker of the LG Ally, announced the Android powered phone on May 12th and has now become an official part of the fast growing Droid mobile phone family. And it is moves like this by mobile phone manufacturers that are allowing the Google Android powered phones to sell so well compared to the iPhone.
eWeek.com reports that while LG is the No. 3 market share holder in the worldwide handset market, it has competed with mostly feature and messaging-based phones. In the first quarter of 2010, it claimed 8.9 percent of the handset market, ABI Research reported May 5, despite "a weak smartphone portfolio in the North America market."
With the introduction of the Ally, and its embrace of Google's popular Android operating system—which in the first quarter of 2010 passed the iPhone OS in market share—LG has begun to be address its weak point.
Here's an unboxing of the Android powered LG Ally: