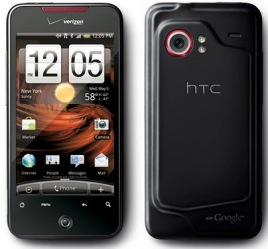 Verizon Sold Out of HTC Droid Incredible – June 4th Next Ship Date
The demand for the Verizon release of the HTC Droid Incredible was unprecedented leading up to last month's finally launch.  The web was buzzing with excitement leading up to the Verizon HTC Incredible release date as no one really new exactly when it would happen.]
However, since launching the newly named HTC Droid Incredible, Verizon has been seriously struggling to keep up with demand. In fact, as of right now, Verizon is completely sold out of the HTC Droid Incredible.
According to brighthand.com, Verizon CEO Lowell McAdam says that his company sold 100,000 units in the first two days this model was available. As a result of the strong demand coupled with shortages of the Incredible's AMOLED display, the smartphone won't be available again for several weeks.
The carrier's website shows that ordered placed today are expected to ship on or before June 4.
The Verizon HTC Droid Incredible is running on the new Android 2.1 update – but I'm sure it can easily be upgraded to the new Android 2.2. update as well.
An Overview of the HTC Droid Incredible
This smartphone has a tablet shape designed around a 3.7-inch WVGA (480 x 800) touchscreen.
It is debuting running Google Android OS 2.1 on a 1 GHz Qualcomm Snapdragon processor. HTC's Sense user interface is layered on top.
The Incredible is Verizon's first with an 8 megapixel camera, which offers auto-focus and dual LED flash.
It also has 8 GB of internal storage, a microSD memory card slot, a GPS receiver, Wi-Fi, Bluetooth and support for Verizon's 3G mobile broadband network.
The HTC Droid Incredible costs $200 after a $100 mail-in rebate with a new two-year customer agreement, and customers will need to subscribe to both a voice and data plan.
The Incredible is exclusively available from Verizon Wireless, but AT&T and T-Mobile customers can turn to the Google Nexus One, an almost identical device. Sprint users can turn to the HTC EVO 4G.