Heidi Montag Twitter Update For Meghan Fox's Transformer Role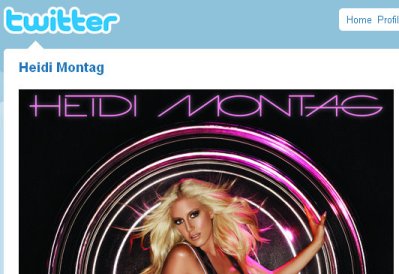 Before I get into Heidi Montag's Twitter update where she is begging to take Meghan Fox's role in the next Transformer movie, I need to ask this simple question to Heidi Montag – are you fully recovered from your back scoop surgery?
Ok… so I'm assuming that since you are wanting to be play the role of a very active character in the next Transformer movie, then perhaps yes, you have recovered.
Heidi Montag sends out Twitter update for Transformer role
So anyway, Heidi Montag has sent out a Twitter update via the Hiedi Montag Twitter profile (which is not Verified by Twitter by the way…), to Michael Bay basically kissing his but and telling him that "I Love your work!" and how she wants to be cast in the next Transformer movie.
Here's the Heidi Montag Twitter update;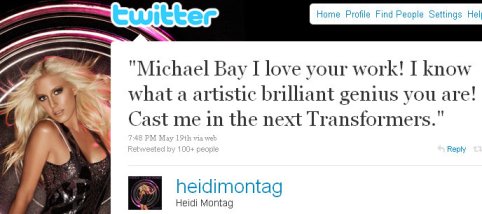 So was Heidi Montag using bad grammar in order to save character space?
Meghan Fox has announced that she will not be staring in the next Transformer movie – which I think is really unfortunate because she was the perfect fit for that role. And since Meghan Fox's announcement, I guess Heidi Montag feels that Twitter is a great platform to build up support for her role in the Transformer movie.
From what we've seen based on the power of Twitter's crowd sourcing capabilities (Betty White hosts SNL), and considering the fact that Heidi Montag has 1,032,153 followers as of this article, then I would say it's possible!
What do you think?
Do you think Heidi Montag's strategy of using Twitter to influence Michael Bay into casting her for the upcoming Transformer movie will work?