Acer announces the Acer Stream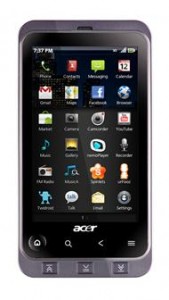 Acer announced yesterday their latest Android based handset the Stream. The handset will have a 3.7-inch AMOLED screen, a 1 GHz Snapdragon processor, 5.0 MP camera records video up to 720p, 512 MB Ram, 2GB internal Flash memory, Android 2.1,3G+, HSPA 7.2,Bluetooth, Wi-Fi, FM radio & a 8GB MicroSD card expandable to 32GB. The Stream will have UPnP technology, which will allow users to share content with other devices. The handset will also have a HDMI port, which will allow you to connect the handset to the TV & watch movies on your TV.  The pricing & availability date is supposed to be announced in the coming weeks.
Source: Acer
Josh Uhlemeyer
Former Author of Mobile News Now.
Twitter: Twitter.com/joshuhl