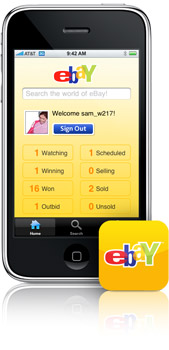 eBay iPhone App – Ebay to Earn $2 Billion from iPhone App This Year
Have you ever looked at your mobile phone – like your iPhone, Droid phone, HTC EVO, etc.. – and wondered, "how much money could actually be generated from this little ol' phone?"
How about $2 billion dollars!
According to eBay's Chief Executive John Donahoe, Ebay's iPhone application has been downloaded over 10 million times, and the company expects $1.5 billion to $2 billion in transactions to be conducted using the mobile application this year.
Yeah, that's both a lot of Ebay iPhone Apps being downloaded, and even more items being purchased through the iPhone.
So if you've ever wondered the validity of the iPhone (or any mobile phone) and it's viability as a source of commerce, then I would say that you need to look no further than Ebay, and the Ebay iPhone App.
Donahoe said its iPhone app was responsible for $600 million in volume last year.
"The digital wallet is going to be a way that will facilitate e-commerce growth," Donahoe said at the All Things Digital conference on Wednesday.
And from the looks of things, we'll see the "digital wallet" (aka, the iPhone and all other mobile phones) take on a larger role in conducting commerce on the fly.