Yankees vs Phillies, Watch Live Online (Phillies Up on Yankees 6-2)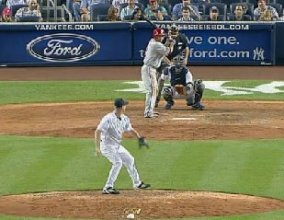 Right now on ESPN3.com you can watch the New York Yankees playing the Philadelphia Phillies live online. The game right now is in the bottom of the 8th inning and the Phillies are up 6 – 2. However, the Yankees just got a man on base.
The game is being played at the new New York Yankees stadium.
This is a rematch of last year's World Series between the Yankees and Phillies and of course, since it's the Yankees playing, the stands are relatively full.
Here's a recap of the live blog by the NYDailyNews:
9:26: So let me get this straight… Burnett can't get anyone out, but Logan/Gaudin have retired 14 of 15, with one intentional walk?
9:18: A-Rod walks to give the Yankees their first baserunner of the night. Moyer has not looked at first base once all game.
9:05: Here's Chad Gaudin to try to keep the deficit at four runs.
8:55: Logan showing Yankees fans they may have been wrong about him. Nine batters, eight outs and one intentional walk.
8:50: Back from the radio booth and I just realized something: We're five innings in and the Yankees haven't had a runner on base yet. Two hits, two home runs.
8:25: Logan pitches out of a bases-loaded jam. The Yankees will have to start hitting Moyer soon if they want to get back in the game. For the record, the Yanks have not won a game this season when they've trailed by four or more runs.
8:19: Burnett fails to cover first, ending his night on a real sour note. Fans here just booed him off the mound.
8:09: Moyer looks great. Has retired nine of 10, his only mistake coming on Cano's home run.
8:00: Two monster solo shots by Ryan Howard and Jayson Werth make it a 6-1 Phillies lead. Boone Logan warming up in the bullpen.
7:46: Robinson Cano drills an 81 mph "fastball" from Moyer into the right-field seats. It's 4-1 Phillies.
7:39: That one's gonna hurt. Shane Victorino hits a bases-clearing triple, giving the Phils a 4-0 lead.
7:35: Burnett gives up three hits and a walk, giving the Phillies a 1-0 lead and bases loaded with one out.
7:25: Quick first inning for Moyer. Honestly, could there be two more opposite pitchers than Moyer and Burnett?
7:17: Good first inning for Burnett, who hits Chase Utley and throws a wild pitch but escapes without any damage. Here comes 47-year-old Jamie Moyer. Usually, a sentence like that would be sarcastic, but the guy is actually 47!
7:08: And we're underway. Game-time temperature 72 degrees.