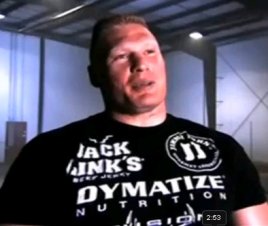 Brock Lesnar, Shane Carwin – UFC 116 Preview (Video)
On July 3rd, you will have the opportunity to experience what is perhaps the most thrilling, exhilirating, and quite frankly the scariest UFC fight in the history of MMA.
Brock Lesnar will fight Shane Carwin for the undisputed heavy weight champion of the world. These men are both huge, fast, explosive, and aggressive – and they are both hungry to devour the other guy in the octagon.
UFC 116 will take place on July 3rd – you will be able to watch UFC 116 on Pay Per View TV and / or more than likely on Yahoo's UFC live streaming pay per view website.
Shane Carwin did something that really upset Brock Lesnar when he accepted the heavy weight belt as the intermediate heavy weight champion. Brock Lesnar was both embarassed and shocked at the speech that Shane Carwin gave because he was portraying himself as the true, undisputed heavy weight champion.
This one act was enough to get the blood pressure flowing for Brock, and it was more than enough to secure a massive battle in the octagon for UFC 116.
Here's the preview video for UFC 116: