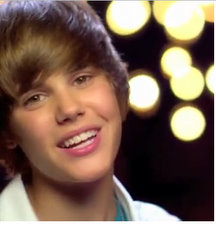 Justin Bieber Trumps Eclipse, Twilight Saga in Popularity (Video)
This year, June 30th carried heavy implications in the world of teenage girls within the United States.
1)  Justin Bieber's My World tour kicked off in Hartford, Connecticut
2)  The Twilight Saga movie, Eclipse kicked off throughout the United States
So the epic battle of the day, and the question that MTV took to the streets was this – who more important on this day, June 30th, 2010? The answer may, or may not in fact surprise you.
Here's more from MTV.com:
It's a question for the ages, and teen girls don't take it lightly. If there could be only one, which would you choose: Justin Bieber or "Twilight"? Days before vampire frenzy spread on Wednesday (June 30) with the opening of "Eclipse," MTV News traveled to Hartford, Connecticut, to catch the teen singer's My World Tour kickoff, where we asked fans there to weigh in on the epic battle of Bieber vs. "Twilight."
One of the two pop-culture phenomena had to come out a winner, and Justin Bieber's fans made their case, with the pop star coming out the clear champ.
"He is amazing," Britney told MTV News, arguing that Bieber's famous head of hair is so much better than Pattinson's equally famous coif. "It's just gorgeous."
In addition to having that sugary-sweet voice, the girls had other important reasons for loving Bieber over the "Twilight Saga," one of them being 24-year-old Pattinson's age. "[Justin's] amazing! He's just amazing. Yes [he wins]. He's more our age and Robert Pattinson is just older, so obviously, Justin Bieber," Amanda said. Her pal, Nicky, agreed saying, "He's our age."
So there you have it folks – Justin Bieber comes out the clear, undisputed winner in the battle of for teenage girl's attention on this fine summer day.
MTV Shows