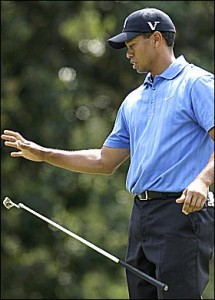 As Tiger Woods rolled into Europe, reporters from both sides of the Atlantic were hounding him about his personal life. Of which, as is standard with Tiger Woods, he was pretty much mum about the whole thing.
However, in the midst of all the affair mongering that was taking place, Tiger Woods did make one announcement that seems to have diverted the sharks appetite, at least for now.
Tiger Woods announced that he would be departing from his Scotty Cameron Newport 2 putter, which he has used for 11 years now, and in turn will be taking up the Nike Method 001 putter for the Open at St. Andrews this week.
The greens at St. Andrews are running slow, and the Nike Method putter is designed to give the ball more emphasis at the top upon striking, thus making the ball run faster.
If Tiger Woods finds that the Nike Method 001 putter gives him a substantial competitive advantage, then we can expect to see the Scotty Cameron putter a whole lot less.