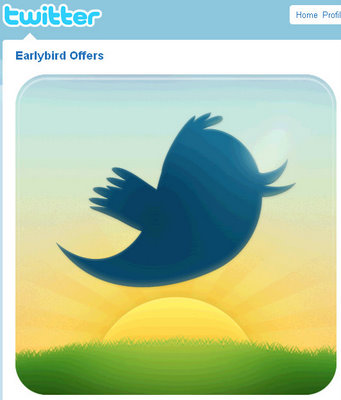 Twitter is officially launching @EarlyBird today with a special deal for tickets to The Sorcerer's Apprentice, a film from Walt Disney Pictures. The deal offered through @EarlyBird is this – enter "APPRENTICE" at checkout on Fandago and you'll receive two tickets for the price of one.
The @EarlyBird profile is designed to offer specials from sponsors that strike deals with Twitter directly. So this isn't some individual trying to promote a Twitter profile that offers deals – this is coming straight from Twitter, and from direct sponsors that strike deals with Twitter.
According to TechCrunch, "we originally thought that EarlyBird woud be a competitor to deal sites like Groupon and Gilt but it turns out that it's actually a complimentary channel. Twitter has halso posted an FAQ about the new feature. Interestingly, Twitter says it is "starting with US-wide offers but will explore location-based deals in the future."
Visit @EarlyBird today.