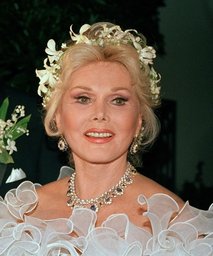 LOS ANGELES – Actress Zsa Zsa Gabor was in critical condition Friday after undergoing hip replacement surgery earlier in the week, her husband said.
Gabor, 93, had injuries to the right side of her body, including a broken hip, after she fell out of bed last weekend trying to get into a wheelchair at her Bel-Air home, said Prince Frederic von Anhalt, Gabor's husband.
Gabor initially appeared to be recovering after the hip surgery Monday at Ronald Reagan UCLA Medical Center, her publicist John Blanchette said.
Blanchette said von Anhalt told him Friday that "doctors were working very hard to stabilize her."
"Right now she's not communicative," Blanchette said. "Only time will tell."
He said doctors had taken Gabor off morphine and were putting her on another painkiller with the hope that would help the situation.
Blanchette said earlier Friday the actress might have suffered a stroke during surgery, but von Anhalt said doctors have not confirmed there was a stroke.
"It's just speculation," von Anhalt said. "We have to wait a few more days to see what is going on."
Von Anhalt said his wife was conscious.
"She looks at us but doesn't know what is going on," he said.
Gabor's daughter Constance Francesca Hilton said her mother was talking during a visit on Friday.
Gabor is "adjusting to the medications and healing process. There are no surprises," Hilton said in a statement.
The statement said Gabor was in guarded condition, but Hilton could not be reached for further clarification.
Gabor, a Hungarian-born sexpot of the 1950s and 1960s, has to use a wheelchair after being partially paralyzed in a 2002 car accident. The wheelchair's brake wasn't on and it moved away, causing the fall last weekend, Blanchette said.
Gabor appeared in films ranging from "Moulin Rouge" in 1952 to "Queen of Outer Space" in 1958. She also appeared on TV specials and game shows, and as a guest on several television series, often playing herself.
[source: Yahoo News]