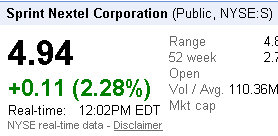 Sprint Nextel Corp. is currently up on the NYSE.
This could be attributed to the news that Sprint has actually made an gain in the number of subscribers it added in the second quarter of 2010.
Sprint Nextel (NYSE:S) is current up +0.11 (2.38%) at 4.94.
What are some of the factors that may have contributed to this feat?
Let's run through a few that I think are relevant:
1) Sprint had the first 4G network
Say what you will about Sprint, no one can take away the fact that they blazed a trail into the world of 4G data.
The Sprint 4G coverage map is ever expanding. And Sprint is aggressively pushing more metro areas to it's list of 4G enabled locations.
However, all of this effort into expanding their 4G network might be trumped by a possible 4G satellite that places a cloud over the entire United States.
2) 4G enabled mobile phones
Along with being the first 4G data provider, Sprint can also claim to provide the first 4G enabled mobile phone.
The HTC EVO 4G was Sprint's first 4G experience, and the device has captured everyone's attention simply because… well… it was a first to the market.
3) Possible acquisition of T Mobile to become 3rd largest US carrier
Finally, I see Sprint as being a great candidate to acquire the struggling the T Mobile carrier.
T Mobile would be great acquisition for Sprint and would, in essence, make Sprint the third largest US mobile phone carrier behind AT&T and Verizon.
So what do you think?
Is Sprint gearing up to be a true, long term competitor in the mobile phone and carrier market, or will they simply be plowed over by those with more resources and exposure?