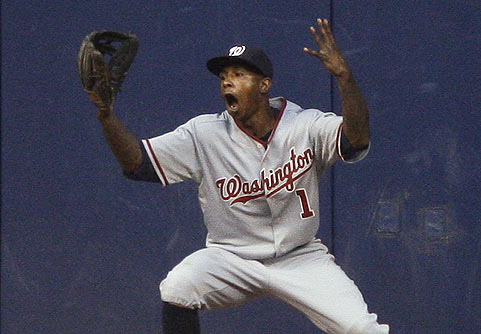 Nyjer Morgan is becoming quite a controversy in Major League Baseball.
His fights, brawls, home plate collisions, and other antics of temper are starting to catch up with him and people are starting to talk about how Nyjer Morgan simply needs to go.
The Nationals center / left fielder is starting to become not only a big controversy in MLB, but he's become a big hit on the web.
People want to know what it is about this guy that everyone is talking about, and of course, people want to see some Nyjer Morgan videos.
Most recently, Morgan has cost his team runs by instigating home plate collisions.
Last Saturday, as he was running to home plate to score, Nyjer Morgan stepped out of the baseline to hit the catcher.
The problem was that the catcher wasn't in the baseline, and while trying to hit the catcher, Morgan missed the plate completely.
When a teammate came out to turn him around to touch the plate, he was called out due to players interference.
So what would have been an easy score turned in to an out for the Nationals and cost his team a run.
Let's see what so many people are talking about with this guy Nyjer Morgan
Here are some videos of Morgan that I was able to find. If you find some other good videos of Morgan, definitely share the links in the comments.