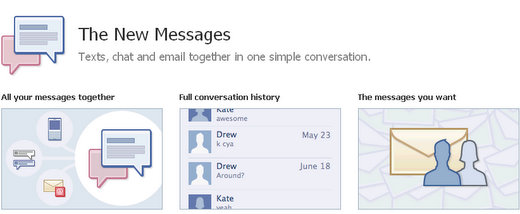 Well, well… Merry Christmas to me – today, my new Facebook Messages platform went live!
Back in November, Facebook announced their new Facebook Messages platform – but along with their announcement came the news that some people would have to wait to get it turned on.
Low and behold, I just logged into Facebook today and there it was – the new Facebook messaging platform has been activated.
Question – how many of you have been using the new Facebook Messages platform already? I'm curious to know if it just took awhile to reach me, or is this a widespread update / release from Facebook?
Anyway, the new Facebook Messages platform is live in my profile and here's some cool things I like right off the bat:
1.  Facebook Messaging via Text (SMS)
Once you active your mobile phone to send and receive text messages as part of your Facebook messaging platform, you'll be able to communicate to your Facebook messages via SMS.
Not only can you receive text messages from people who are messaging you from Facebook, but you can reply to them quickly and easily as well.
If you receive a text message through your Facebook Messages platform from someone, simply reply to that text message and your friend will get your reply.
The conversation will also be logged in your standard Facebook Messages in your profile.
Here's a quick overview of how to use Facebook Messages via SMS (text messaging):
Once you turn on text messaging, the texts you exchange with friends are incorporated into your conversations along with your message and chat history. This allows you and your friends to message each other even when you're not at your computers.
Getting and responding to messages from your phone
Once you turn on text messaging, friends can check the "Send to Phone" option when they send you messages. If a friend checks this box, you'll receive a text that contains the message. Simply reply to the text from your phone, and your friend will receive your reply as a Facebook message. It will also be logged in the ongoing conversation with your friend, which you can view from your Messages home page.
Sending messages from your phone
To send a new message to a friend via a mobile text, just text the following to32665 (FBOOK):
msg john smith what's up?
This would send the message "what's up?" to your friend John Smith.
via Facebook Help
2.  Send message by just hitting "enter"
The other really cool part I like about the new Facebook Messaging platform is that all I need to do to send a message is simply hit "enter".
This is an option that you select initially, and here's what it looks like:

Once you've checked that box, all you have to do is type your message out and hit "enter" – your message will be sent.
Do you notice the little mobile to the left?
All you need to do is check that box and your message will be sent directly to that person's mobile phone as a text message.
Pretty cool huh?
So have you been able to play around with Facebook's new messaging platform yet?
I look forward to hearing your responses.