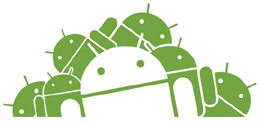 Here's the reality of Google Android's OS that powers smartphones.  According to Google there are 550,000 new Android smartphones being activated each day.  This is an astounding number, to say the least.  And a number that, with Android being so new in the mobile phone space, will likely to climb exponentially as we proceed forward.
This exponential growth from Android shows in the marketshare numbers as well. Currently, Android enjoys a 49.5% marketshare in the United States while the next closes competitor, the Apple iPhone, has 29.5% marketshare in the U.S.
Clearly, Android is on a rampage and plans to be the number selling smartphone OS on the planet for the indefinite future.  And the fact that 1 billion smartphones will be selling per year by 2016, means Android is primed to continue the march of smartphone domination.
via IntoMobile