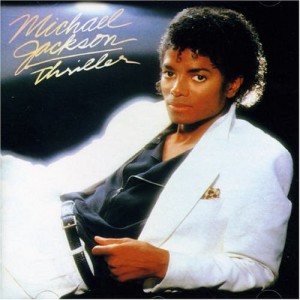 What's the 100 Million Club? It's videos that have reached 100 million views or more online. Check out the top 35 videos as of August 25, 2009, below.
It's no secret that Michael Jackson's Thriller video (watch video below), is one of the world's most popular videos. And according to a new report out today, it may be on it's way to the #1 spot of the most watched video of all time!
From Visiblemeasures.com, here's where Michael Jackson's Thriller video is performing:
"Thriller's recent performance has bumped both the original Twilight film and Susan Boyle back a spot. The celebrated music video has grown over 80 million views since our July update, enough to hop 5 spots and slip passed Twilight by just one million views."
The 100 Million Club (as of August 25, 2009)
Click on the thumbnails to watch the clips.
| Rank | Title | Type | Label/Studio | True Reach | Months Available | Watch |
| --- | --- | --- | --- | --- | --- | --- |
| 1 | Soulja Boy: Crank Dat | Music Video | Universal | 487,000,000 | 24 | |
| 2 | Beyonce: Single Ladies | Music Video | Sony Music Entertainment / Columbia | 314,000,000 | 10 | |
| 3 | Michael Jackson: Thriller | Music Video | Epic Records | 299,000,000 | 29 | |
| 4 | Twilight | Movie Campaign | Summit | 298,000,000 | 17 | |
| 5 | Susan Boyle: Britain's Got Talent | TV | Freemantle / iTV | 286,000,000 | 4 | |
| 6 | Mariah Carey: Touch My Body | Music Video | Universal | 277,000,000 | 17 | |
| 7 | Jeff Dunham: Achmed the Dead Terrorist | User Generated | – | 263,000,000 | 22 | |
| 8 | Timbaland: Apologize (feat. One Republic) | Music Video | Mosley Music Group / Blackground / Interscope | 236,000,000 | 52 | |
| 9 | Hannah Montana | Movie Campaign | Disney | 228,000,000 | 6 | |
| 10 | Avril Lavigne: Girlfriend | Music Video | RCA | 228,000,000 | 29 | |
| 11 | Leona Lewis: Bleeding Love | Music Video | Syco / SonyBMG | 227,000,000 | 22 | |
| 12 | Twilight Saga: New Moon | Movie Campaign | Summit | 220,000,000 | 2 | |
| 13 | Chris Brown: With You | Music Video | Zoomba / Jive Records | 206,000,000 | 20 | |
| 14 | Numa Numa | User Generated | – | 196,000,000 | 19 | |
| 15 | Alicia Keys: No One | Music Video | J Records | 188,000,000 | 22 | |
| 16 | The Dark Knight | Movie Campaign | Warner Brothers | 185,000,000 | 24 | |
| 17 | Miley Cirus: 7 Things | Music Video | Hollywood Records | 181,000,000 | 13 | |
| 18 | Charlie Bit My Finger Again! | User Generated | – | 177,000,000 | 25 | |
| 19 | Evolution Of Dance | User Generated | – | 174,000,000 | 40 | |
| 20 | Harry Potter and The Half-Blood Prince | Movie Campaign | Warner Bros. | 172,000,000 | 12 | |
| 21 | Beyonce: If I Were A Boy | Music Video | Sony Music Entertainment / Columbia | 171,000,000 | 10 | |
| 22 | Lady Gaga: Just Dance | Music Video | Universal | 170,000,000 | 15 | |
| 23 | Michael Jackson: Beat It | Music Video | Epic Records | 159,000,000 | 26 | |
| 24 | Canon Rock | User Generated | – | 155,000,000 | 44 | |
| 25 | Rick Astley: Rick Roll'd | User Generated | – | 150,000,000 | 27 | |
| 26 | Rihanna: Please Don't Stop The Music | Music Video | Universal | 149,000,000 | 24 | |
| 27 | Dramatic Gopher | User Generated | – | 146,000,000 | 26 | |
| 28 | Chris Crocker: Leave Britney Alone | User Generated | – | 122,000,000 | 23 | |
| 29 | Britney Spears: Womanizer | Music Video | Sony BMG | 118,000,000 | 11 | |
| 30 | Paul Potts: Britain's Got Talent | TV | Freemantle / iTV | 116,000,000 | 23 | |
| 31 | Miss Teen South Carolina 2007 | User Generated | – | 107,000,000 | 32 | |
| 32 | Lezberado: Revenge Fantasies | User Generated | – | 103,000,000 | 26 | |
| 33 | Peanut Butter Jelly Time | User Generated | – | 103,000,000 | 56 | |
| 34 | Transformers: Revenge of the Fallen | Movie Campaign | Paramount | 102,000,000 | 8 | |
| 35 | Tay Zonday: Chocolate Rain | User Generated | – | 100,000,000 | 31 | |
Source: Visible Measures