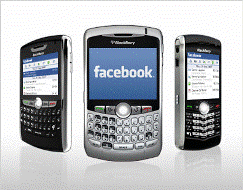 Unfortunately, for all of you Blackberry users, you still don't have a Facebook app that links easily to a Facebook Fan Page!
So I will just apologize to you on behalf of Blackberry, because I know that it's very frustrating to you.
Of course you have a Facebook App for your Blackberry, but that's only associated with your personal profile – that app will not accommodate Facebook Fan Pages.
I've written before about the issue of Facebook Fan Pages and Blackberry, the only way currently for Blackberry users to access a Facebook Fan Page is to go to m.facebook.com (mobile web browser access).  The major downfall here is the HTML is not always rendered on a mobile device in a "user friendly fashion."  And also, you don't always have a good enough signal to be using mobile web browsing.
Yes – a Facebook Fan Page app for the Blackberry is seriously needed.  This blog continues to get heavy amounts of traffic from people who are searching for an easy way to update their Facebook Fan Pages from a Blackberry, yet the answer is always the same – there isn't a way to do it!
Maybe if enough people like us write about this issue, and make comments about it on the Facebook Fan Page for Blackberry, then they might get the clue and actually put an together for it's users.