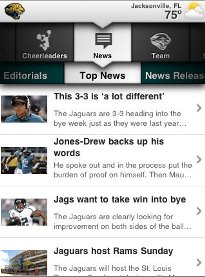 The Jacksonville Jaguars have announced a new mobile app for fans that is available for iPhones, iPod Touches, and Google Android devices.  This is a great new feature for Jaguar fans, and something that is surely going to set a precedence through other NFL teams.
The iPhone App craze goes beyond just the NFL teams, and players are even creating apps about themselves – check out the Ocho Cinco iPhone App.
Here's more from the official Jaguars site:

"Our new mobile application provides our fans yet another way to stay up to date on all the latest news and opinion regarding the team on a daily basis.
For those fans on the go, our mobile application will fulfill their desire to stay informed about the team," said Jaguars Executive Director of Information Technology, Bruce Swindell.
The app has features including team, editorial, and fantasy football news; game recaps and schedules; player, coaching, and cheerleader rosters and bios; and the ability to buy tickets within the application The Jaguars worked with mobile phone development company DoApp® Inc. who has developed numerous successful iPhone apps ranging from news applications to interactive games.
"We were excited to help make the Jaguars mobile application and we are already working on huge enhancements that will make this app a must-have for any Jaguars fan," said Wade Beavers, CEO of DoApp. "We are focused on making this app something useful in the stadium while you are at the game and as an extension to engage with the team on an entire new level."
You can get the app for free from the app store s by clicking on this link (opens iTunes).