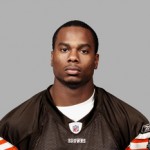 Alex Hall is heading to Philadelphia to join forces with the Eagles – but my question is, why aren't there any Alex Hall videos on YouTube?
Ok, I may just be crazy here, or I forgot how to search properly, but I can't find a single YouTube video of Alex Hall.
How is that even possible?
Anyway, onto the important news about Alex Hall:
Alex Hall, Cleveland Brown linebacker, was traded from the Cleveland to Philadelphia in exchange for Eagles' cornerback Sheldon Brown and linebacker Chris Gocong.
Along with the deal of sending Alex Hall to Philadelphia, the Eagles got a fourth and fifth round draft pick for the 2010 NFL draft.
Another story coming up out of Philadelphia besides the Alex Hall trade is what will happen with Eagles quarterback Donovan McNabb?
There are rumors spreading like wild fire that McNabb will be heading to the Oakland Raiders.
And oh yeah, did I mention that I couldn't find a single Alex Hall video on YouTube?