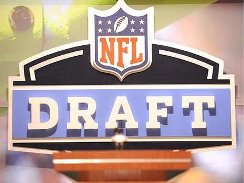 NFL Draft 2010: Ben Roethlisberger Trade To Oakland Raiders
Since yesterday, there has been speculation that Ben Roethlisberger was going to be traded to from the Pittsburgh Steelers to the Oakland Raiders.
The NFL announced that Ben Roethlisberger would be suspended for at least four games during the 2010 NFL season, and possibly even through week 7. This long drought of Big Ben playing, plus the negative publicity that has been pouring into Pittsburgh, has the Steelers organization looking for a way out.
Reports of the Steelers possibly trying to trade the two-time Super Bowl winning quarterback were thought to be heating up on Wednesday, the day before the 2010 NFL draft, until word was reported that the Rams would not be interested in trading their No. 1 overall draft pick. Discussion has now turned toward the Oakland Raiders, according to BleacherReport.com. There is no confirmed news however that the Oakland Raiders / Ben Roethlisberger trade is final.
NFL Draft 2010 – Pete Carroll's guessing game on Twitter
In other NFL Draft 2010 news, Pete Carroll – new head coach of the Seattle Seahawks – has been playing an NFL Draft 2010 guessing game on his Twitter profile. I wrote yesterday about Pete Carroll's NFL Draft game on Twitter yesterday and here's a sample of what he's been tweeting so far:
Eeach of Carroll's tweets comes with a link to that song's music video on the Bing.com website. And, yes, Bing is a corporate partner of the Seahawks, who wear their logo on their practice jerseys along with other sponsor relations.
So the game here is to try and guess who is referenced in the tweets as it relates to the 2010 NFL Draft:
"Ring of fire" by Johnny Cash.
"Today was a fairytale" by Taylor Swift.
"Jeremy" by Pearl Jam.
"Big Balls" by AC/DC.
"Licking stick" by James Brown.
"Superman's song" by Crash Test Dummies.
"California love" by Tupac.
"Smooth criminal" by Michael Jackson.
"Jump around" by House of Pain.
"Back door man" by the Doors.
"Let the beat build" by Lil' Wayne.
"Soul sacrifice" by Santana