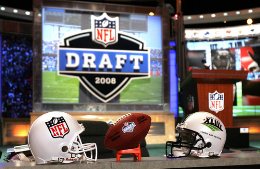 NFL Draft 2010: Live Twitter News Stream
The 2010 NFL Draft officially starts tonight (Thursday, April 22nd, 2010) at 7:30pm EST with the 1st round draft picks, and then continues through the weekend with the 2nd, 3rd, and 4th round draft picks on Friday and Saturday.
I decided to put together an NFL Draft 2010 live Twitter stream so that you can get up to the second information on anything and everything happening in the 2010 NFL Draft (see live Twitter stream below).
One of the biggest stories so far in the 2010 NFL draft centers on Tim Tebow and where, or what team, will finally end up drafting him. I wrote yesterday about how Tim Tebow made the decision to not show up to the 2010 NFL Draft in New York City. He decided instead to stay at home in Florida and watch the draft from TV with his family and friends.
Some people commented that the reason Tim Tebow wasn't attending the 2010 NFL Draft was because he was afraid of being on national TV and not being drafted until late in the draft picks – somehow, I doubt that is going to happen.
Anyway, below is the live Twitter feed for the 2010 NFL Draft:
Auto updates every 5 – 15 seconds