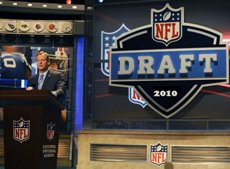 2010 NFL Draft Results – Top 10 Picks
The 2010 NFL Draft went as most people had planned. There really seems to be a science associated with figuring out the NFL draft picks. And the predictions weren't too far off from what actually went down in the Green Room in New York City.
Perhaps the draft pick that garnered the most attention was the 25th pick of the night, which was Florida's prized quarterback Tim Tebow.
Tim Tebow was drafted by the Denver Broncos as the 25th pick in the first round draft of the 2010 NFL draft. Tim Tebow was at his residents in Florida watching the 2010 NFL draft, when the draft pick was announced.
After Tim Tebow was selected by the Denver Broncos, ESPN was able to get in the door for an exclusive interview with the quarterback.
As for the rest of the NFL draft, people might be wondering what exactly took place in the very first picks of the night. Some people believed that Sam Bradford was a sure bet to be the #1 draft pick for the 201 NFL Draft, and guess what, they were right. So hopefully some people made out like a bandit over that gamble.
Here are the top 10 NFL Draft picks of the 2010 NFL draft – courtesy of Tagza.com:
#1  St. Louis Rams Sam Bradford QB Oklahoma
#2  Detroit Lions Ndamukong Suh DT Nebraska
#3  Tampa Bay Buccaneers Gerald McCoy DT Oklahoma
#4  Washington Redskins Trent Williams OT Oklahoma
#5  Kansas City Chiefs Eric Berry S Tennessee
#6  Seattle Seahawks Russell Okung OT Oklahoma State
#7  Cleveland Browns Joe Haden CB Florida
#8  Oakland Raiders Rolando McClain ILB Alabama
#9  Buffalo Bills C.J. Spiller RB Clemson
#10  Jacksonville Jaguars Tyson Alualu DT California