Motorola Droid is expected to get Android 2.2 (froyo)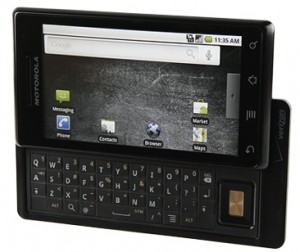 When it came to Android 2.2 going out to handsets the Nexus One is the first to get the update & HTC has already mentioned which handsets will get it. But am sure a lot of you Motorola Droid owners are wondering if you will get the Android 2.2 update. Well according to a   Motorola spokesperson quoted at Slashgear has mentioned that Android 2.2 will be coming to the Motorola Droid in the near future.The spokesperson quoted :
"We're excited to see Google's news of the next version of the Android operating system and look forward to integrating it on our Android-based devices as it's made available to the open source community." "While I can't comment on specifics, we do expect the Droid by Motorola users to receive Android 2.2 as a software upgrade in the near future."
Unfortunately that's all that the spokesperson could say about Android 2.2 for the Motorola Droid. So we don't know if Android 2.2 is going to be the exact same as the Nexus One or if it will be missing a few features of the mobile operating system. Since the Motorola Droid is a Verizon branded phone it's possible that Verizon could disable the tethering & portable Wi-Fi hotspot functions.
Josh Uhlemeyer
Former Author of Mobile News Now.
Source: Slashgear