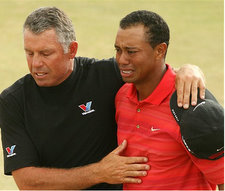 Tiger Woods Divorce Update – Tiger Woods To Pay $750 in Divorce Settlement
There is news breaking on the Tiger Woods divorce situation that is reporting that Tiger Woods agreed to pay at least $750 million in a divorce settlement with wife, Elin Nordegren, according to a report issued by the London Sun.
According to the divorce agreement, Elin Nordegren is not allowed to ever speak publicly about Tiger Woods' extramarital affairs, nor the conversations that took place between her and Woods about these affairs.
And Tiger Woods isn't allowed to bring any girlfriends around his two young children.
Elin Nordegren to sign divorce papers next week in Orlando, Florida
The Sun reports that Woods and Nordegren will sign divorce papers next week during a court hearing in Orlando, Fla.
The deal will also reportedly give Nordegren full custody of the couple's children, 3-year-old daughter Sam and 1-year-old son Charlie.
Woods will pay the 30-year-old Nordegren between $750 million and $833 million, provided she doesn't reveal any details about her former husband's reported affairs.
Tiger Woods will now be free to have as many relationships as he wants (as if he wouldn't anyway) with as many women as he wants without the constraint of the marriage.
Unfortunately, this situation is probably not going to help Tiger Woods with issues he was dealing with when he admitted himself for treatment after news of the affairs broke publicly.