UFC 116 Fight Card – Brock Lesnar vs Shane Carwin Featured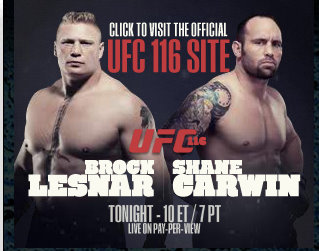 The stage is set for UFC 116 in Las Vegas. The featured fight for UFC 116 is the heavyweight championship belt between Brock Lesnar and Shane Carwin. These two heavyweights are ready, in shape, and determined to quickly eliminate the other guy.
So Brock Lesnar and Shane Carwin are on the main fight card.
Here's the other fights and the UFC 116 fight card:
Main card
Heavyweight Championship bout:  Brock Lesnar (c) vs  Shane Carwin (ic)[1]
Middleweight bout:  Yoshihiro Akiyama vs.  Chris Leben[1]
Light Heavyweight bout:  Krzysztof Soszynski vs.  Stephan Bonnar[1]
Lightweight bout:  George Sotiropoulos vs.  Kurt Pellegrino[1]
Welterweight bout:  Chris Lytle vs.  Matt Brown[1]
You can watch UFC 116 via Pay Per View on TV tonight.
However, you can watch UFC 116 live online via Yahoo Sports.