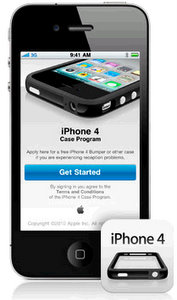 It's now official – Apple has just launched their iPhone 4 case program, sometimes referred to as the iPhone 4 Bumper case program.
The iPhone 4 case program is a result of the antenna issues associated with the new iPhone 4. While holding the iPhone 4 on its side metal bands, the signal strength on the iPhone 4 would drop until eventually losing the signal completely. This problem has also become known as the Grip of Death.
The best solution right now for the iPhone 4 Grip of Death problem, as stated by Steve Jobs himself, is to use the iPhone 4 Bumper case.  Consumer Reports confirmed that when using the iPhone 4 Bumper case, the signal strength is nearly 100% stable.
Visit Apple's iPhone 4 case program page here for more details.
You have until September 30th, 2010 to receive a free Bumper case, or a select 3rd party case from Apple at no charge.