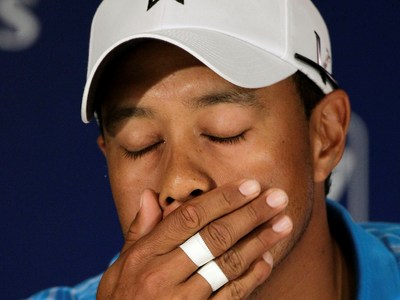 Tiger Woods' golf game is spiraling out of control.
Currently, Woods is #78 out of 80 players at Bridgestone, and finds himself looking at the worst PGA performance in his career.
Tiger Woods has been ranked #1 golfer in the world for the past 269 weeks and for a total of 611 in his career.
According to CBS Sports, Tiger Woods will earn one FedEx Cup point this week, as it looks at this point, and he will fall to 114th place in total points.
This position will only allow Woods entrance into the first of the four events in the playoff series.
But don't rule out Woods' just yet – he could very easily catch on fire and make a big move into the top 100.
What if he doesn't?
This might sound shocking to you, but if Tiger Woods doesn't move into the top 100 then he won't be eligible to play at the Deutsche Bank Championship, a tournament that benefits and is largely run by his personal charity.
WHAT…. WOW!
What Tiger Woods is looking at realistically is playing as few as three more events on the PGA Tour this year. Next week he'll be in the PGA at Whistling Straits, of course the FedEx opener, and he has committed to playing in the HSBC Champions event in China in November.
So what is the world is happening to Tiger Woods?
Is his golf game falling apart because of his the drama in his personal life?