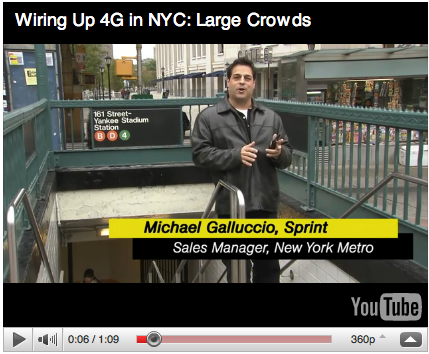 I've written before about Sprint's 4G network coming to New York City. And we even covered the news when Sprint 4G was being tested in New York City back in August. Well today, the rumors and small snippets of news comes to an end. Sprint has made their official announcement that their 4G network has finally arrived in New York City.
New York City is a huge market for Sprint's 4G network to cover due to the population, data devices, and wide spread reach that people in New York have regarding telling other people about Sprint's 4G network.
The question now is, when will Verizon start flexing their 4G network muscles – and AT&T as well – and start taking a chunk out of Sprint's aggressive expansion of their 4G network throughout the Unites States.
Sprint 4G Now In 61 markets throughout the United States
Here's the announcement made by Sprint via their community platform back on November 1st:
Starting today, November 1, 2010 – Sprint 4G – the next generation in wireless service – is available to customers in New York City, Hartford, New Haven, New Brunswick, Trenton and Tampa. With Sprint 4G, wireless customers can experience mobile downloads, video chat capabilities and turbo-charged Web browsing.
Video Series
For a behind-the-scene look into how Sprint got all five boroughs of New York City and parts of New Jersey and Long Island ready for its 4G network, please visit our three-part video series, "Wiring up 4G in NYC."
The latest installment takes a look at How Sprint plans on making 4G work in some of NYC's most crowded and  popular spots, including crowded stadiums. How coverage and capacity  supports high-usage applications like video chat, video streaming and or  sending pictures out from the stadium.
Here's a video about Sprint's 4G coming to New York City:
via Sprint