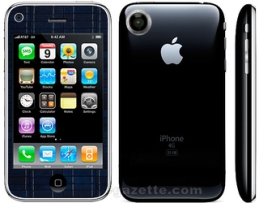 Apple iPhone 4G – Is It Already Late To The 4G Party?
A couple of questions:  Is the iPhone 4G already late to the next evolution in mobile phone and data speed which is 4G? And if they are already late to the 4G party, are they going to have a difficult time gaining substantial market share with a new iPhone 4G?
Problem with 4G market share
Honestly, I have to say that even if the iPhone 4G is late to the market – which they are because 4G phones are already coming – the iPhone has such a strong brand name throughout the world that Apple will probably be able to over come any "lateness" on their part.
But I do believe that with the recent AT&T exclusive clause extension, Apple is going to have a difficult time expanding market share in the United States whenever they do finally release the iPhone 4G.
Is Apple late to the 4G party?
First of all, we don't yet officially have an iPhone 4G announcement. The iPhone 4G is expected to be announced on June 7th at the WWDC2010 in San Francisco. But while we are waiting for Apple to make an iPhone 4G announcement, here we are with other 4G phones coming heading to the market place.
The HTC EVO Android 4G phone is one great example of what's coming in 4G mobile phones. And from the leaked information, this Android phone will be available for pre-order by the end of this month (May).
So what to think about Apple and the 4G market?
Ultimately, I'm guessing that so long as Apple is too terribly late to the 4G market with the iPhone, then they'll continue to thrive and sell massive amounts of iPhone 4Gs.
However, I do believe that Apple is making a mistake by remaining in lock with AT&T and the exclusive clause.
Apple sold out (in my opinion) when they extended their exclusive clause with AT&T just to get AT&T to sell their data plans for half price to customers. This was not the best business decision for Apple, in my opinion of course.
I believe that iPad 3G customers would have paid regular price for the iPad 3G and the data plan, regardless of what the price was. But in extending the exclusive clause, Apple confined their iPhone 3GS and future iPhone 4G sales to only one carrier.
I see it like this – more carriers selling your iPhone, the more sales you'll make – period.