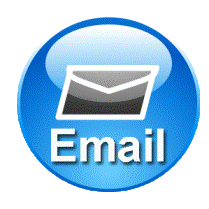 Facebook has a new feature called "Reply by email". You may, or may not, have noticed a small additional line of text at the bottom of your Facebook email notifications.
These are the notifications that you get when someone commented on one of your comments, or on something you "like'ed".
The Reply by email feature with Facebook allows you to simply reply to the actual email notification you received, and whatever you type in your reply email will actually post to the comments on Facebook!  Read more below…
I tried this out actually from my iPhone.  I was in my car, and I checked my email.  I then saw an email notification that someone had made a comment on something in Facebook, and of course I was able to read what that comment was right in my email, on my iPhone.  So I simply hit reply, typed my response and hit send.  And I did all of this while stopped at a red light!
Later when I got home and was on my computer, I pulled up my Facebook and saw the comment I had posted by replying to my email notification!
This is a great new feature that allows you to communicate and respond to people on Facebook right inside of your email.
But isn't Facebook pushing us back to our emails with this new feature?
I mean, with Facebook trying to push for more advertising revenue for the site, you'd think they would want to generate as many page views as possible on the site.  Allowing us to now receive, and then reply, to comments on Facebook right from our emails, seems counter productive to the ad revenue business model.
But that's just me thinking on the fly here….
What do you think about the new Facebook feature "reply by email"?
** Additional Facebook Fan Page Admin Resources:
How To Make Someone A Facebook Fan Page Admin
How To Create A Facebook Fan Page
Automatically Send Twitter to Facebook Fan Pages
Create A Custom Username / URL for Facebook Fan Pages
How To Get Facebook Fan Page Email Notifications
How To Find A Fan Of Your Facebook Fan Page And Make Them Admin